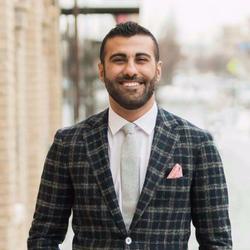 Haythem Khalil Agent
Tel: | Email: haythem@sold.mn
Address: 480 County Hwy 96 #200, Shoreview, MN 55126 | Company: Re/Max Results | License ID: 506008648
License ID:

506008648
Tel

: 763-772-3256
Email

: haythem@sold.mn
Company

: Re/Max Results
Address

: 480 County Hwy 96 #200, Shoreview, MN 55126
I was one of those kids that folks might call "enterprising." By the second grade, I'd decided that I was going to be an entrepreneur and went about proving as much to the world. Well, ok, to the school, but it was a start.I had a strong desire to enhance my lifestyle with lavish recesses and lunches. I was able to fund those desires by entering the jawbreaker and snap bracelet distribution business.

While most of us quickly drop our childhood career dreams in high school, I decided that to get where he wanted to be, without having to sell jawbreakers, I need a business and marketing degree. I attended Minneapolis' Augsburg College (GO AUGGIES!) and promptly was offered a position with a mortgage company. Between then and the day I joined the Kris Lindahl Team with RE/MAX Results, I spent a few years in Washington DC doing political work and founding a startup tech company in Minneapolis.

I hope you are getting the picture that I am not one to let the moss grow under my feet.

When I am not helping folks sell and buy homes, I pack food at Feed my Starving Children, I coach the Blaine Bengals and Blaine Fury youth wrestling program, am passionate about golf and "hanging out with my daughter Jasmin."

Why should you work with me? My high school coach had a saying: 'Show me, don't tell me." That has stuck with me throughout my adult life. And, you know what? In my real estate business, it's my results that speak the loudest."

So please, contact me with any questions you might have about the market or my services. No question is too mundane - I want to help!
Haythem Khalil
Get free info from a real estate professional